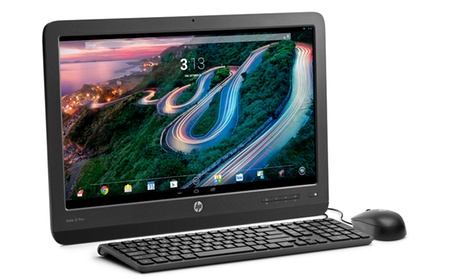 So what are the most important features in a laptop or tablet? We talk about this a lot around here. Asking a dozen people nets us a dozen different answers. This is because the most important features depend on what you're planning on doing with the laptop or tablet in question. Because of this, your answer might be different from mine. So what laptop features do YOU need?
We thought we'd cover the question by bringing you some of the best tablet and laptop deals we found on the web today, 1/28, and telling you WHY we think they're great deals. Keep in mind that deals come and go quickly at times, and that prices are as of posting time. Stick with us…
The deal – HP Slate21 Pro All-in-One for just $216.00 shipped after coupon TRIPLE at Groupon.
Why it's a deal – Users rave about this machine. You get a big 21.5″ IPS HDMI display that's pretty as a picture, and a device that can be used as an android tablet or touch monitor desktop. It's also deemed easy to use by folks with little or no prior computing experience. It really is a basic but fantastic every day machine.
The deal – Microsoft Surface Pro 2 Core i5 w/Keyboard $799.99 shipped at eBay via NewEgg.
Why it's a deal – The Surface has become almost synonymous with "business tablet." Yes, you can have plenty of fun with it, but make no mistake, these Microsoft beauties can help you do your work in multiple ways. This version features a speedy, Dual-Core i5 processor, a 10 Point Multi-Touch display that draws raves from users, and includes a vaunted surface pro keyboard at one nice low price.
The deal –  Acer Aspire Switch 10 Notebook $229 Shipped at Microsoft Store.
Why it's a deal – You get a bit of luxury at a very low price. It comes with a 10″ touchscreen, an Intel Atom 1.33 GHz Processor, and converts into a tablet via the removable keyboard. It also comes with Windows 8.1 (32 bit) and our favorite "extra," Microsoft Office 365 Personal 1-Year Subscription at no extra cost.
The deal – Latitude 15 3000 Series Laptop at Dell Small Business for $569.05 after coupon code JDP?FK0423F441 with free shipping.
Why it's a deal – It's solid, fast, and features an i5-4210U Dual-Core processor in the new Intel Haswell iteration of it. Basically, it's a great every day laptop that's also equipped enough for watching movies and loads of other fun stuff. It's also the best price we've seen yet on this version.